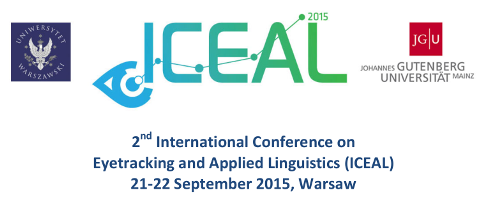 II International Conference on Eyetracking and Applied Linguistics
On the 21-22th of September 2015 at the Faculty of Applied Linguistics at the University of Warsaw took place II International Conference on Eyetracking and Applied Linguistics. It was organized by the Institute of Specialized and Intercultural Communication inn cooperation with University of Mainz. The keynote speakers were: prof. Fabio Alves, who delivered a lecture entitled On the use of eyetracking data in translation process research: a critical retrospective overview, oraz prof. Jan Ober (topic of presentation: Cognitometrics, attention monitoring, saccadometry instrumentation in linguistics).
During 2 days at 4 sections there was 18 presentations about: application of eyetracking in glottodidactic studies, post-editing machine translation and eyetracking translation studies. Amont the speaker was the member of our Laboratory, dr Agnieszka Andrychowicz-Trojanowska (topic of presentation: Eyetracking methods on the lesson of English - textbook examples analysis).
This Conference once again gave its participants from Polish and international research centres the opportunity to see the results of the newest eyetracking studies and to exchange their experience. The results of studies presented at the Conference showed that eyetracking is becoming more widely used in linguistics.